Suppose that we have a utility function U and an inconsistent credence function P, and for simplicity let's suppose that our utility function takes on only finitely many values. The standard way of calculating the expected utility of U with respect to P is to look at all the values U can take, multiply each by the credence that it takes that value, and add:
E(U)=∑yyP(U = y).
Call this the Block Way or Lebesgue Sums.
Famously, doing this leads to Dutch Books if the credence function fails additivity. But there is another way to calculate the expected utility:
E(U)=∫0∞P(U > y)dy − ∫−∞0P(U < y)dy.
Call this the Level Set Way, because sets of points in a space where some function like U is bigger or smaller than some value are known as level sets.
Here is a picture of the two ways: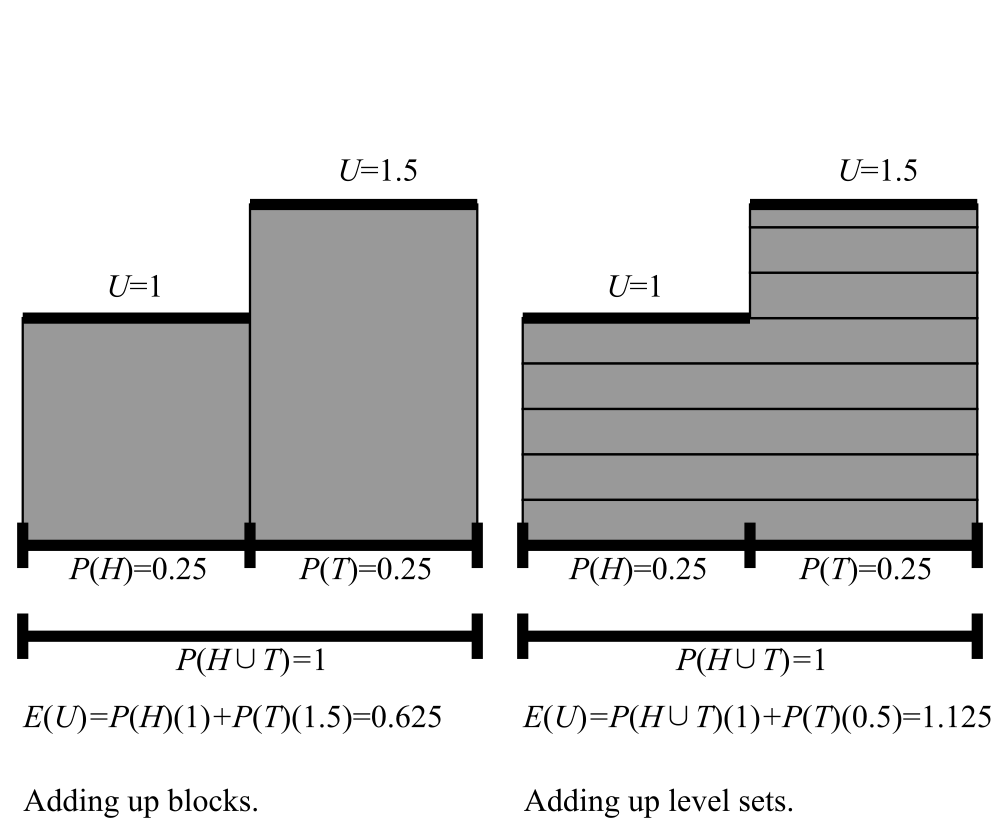 On the Block Way, we broke up the sample space into chunks where the utility function is constant and calculated the contribution of each chunk using the inconsistent credence function, and then added. On the Level Set Way, we broke it up into narrow strips, and calculated the contribution of each strip, and then added.
It turns out that if the credence function P is at least monotone, so that P(A)≤P(B) if A ⊆ B, a condition strictly weaker than additivity, then an agent who maximizes utilities calculated the Level Set Way will not be Dutch Booked.
Here is another fact about the Level Set Way. Suppose two credence functions U1 and U2 are certain to be close to each other: |U1 − U2|≤ϵ everywhere. Then on the Block Way, their expected utilities may be quite far apart, even assuming monotonicity. On the other hand, on the Level Set Way, their expected utilities are guaranteed to be within ϵ, too. The difference between the two Ways can be quite radical. Suppose a coin is tossed, and the monotone inconsistent credences are:
heads: 0.01

tails: 0.01

heads-or-tails: 1

neither: 0
Suppose that U1 says that you are paid a constant $100 no matter what happens. Both the Block Way and the Level Set Way agree that the expected utility is $100.
But now suppose that U2 says you get paid $99 on heads and $101 on tails. Then the Block Way yields:
E(U2)=0.01 ⋅ 99 + 0.01 ⋅ 101 = 1
while the Level Set Way yields:
E(U2)=1 ⋅ 99 + 0.01 ⋅ 2 = 99.02
Thus, the Block Way makes the expected value of U2 ridiculously small, and far from that of U1, while the Level Set Way is still wrong—after all, the credences are stupid—but is much closer.
So, it makes sense to think of the Level Set Way as harm reduction for those agents whose credences are inconsistent but still monotone.
That said, many irrational agents will fail monotonicity.